Monday 29th July, 5pm GMT +3, Mika Basketball court, Yerevan, Armenia. Homenetmen London's Basketball Team played its first game in the Fatherland. Yes, it was hard; the altitude tired us out quicker than expected and the heat made our mouths unbearably dry. Yet despite a loss in our first game against Canada I ended the game with a smile; a smile that encompassed my attitude towards Armenia and the Games. The smile was due to the fact that firstly I was in my home country doing something I love, and I am eternally grateful for Homenetmen for providing me with that opportunity. Secondly I had made new bonds of friendship as I met Homenetmenagan brothers and sisters that shared the same passions as myself. Thirdly, I was playing for Homenetmen! Defeat and accepting defeat is a part of being a good sportsman and a Homenetmenagan, because in Homenetmen being in the competition is as fulfilling as winning it. There is no embarrassment in defeat. The victors did not brag and gloat about their success: quite the contrary, they congratulated us and thanked us for the game.
The London basketball team is a new one: one that is barely a year old and played its first competitive game in the Pan-Homenetmen Games. We did not enter the Games expecting gold. We entered expecting to learn and have a great time, and in this Homenetmen did deliver. As the Games went on we faced Australia, Syria and USA-East Coast. We lost these too but similarly we created new bonds of brotherhood and found ourselves supporting our foes from one match in their next.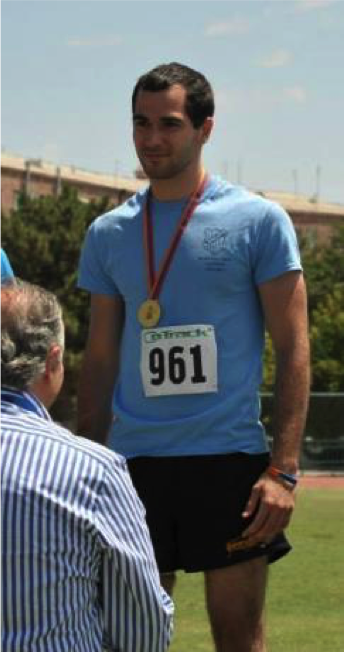 Nonetheless, Homenetmen London did get gold in Track and Field due to the efforts of Chris Tighe (pictured, left). Chris had trained hard at home, his commitment to self-improvement and discipline allowed him to bring home the 400-metre 
gold with relative ease. Unfortunately an injury gained during the Games stopped his chances of bringing home further medals, but nonetheless the rest of the team were all extremely proud of his achievement and we celebrated Armenian-style.
Being knocked out of the tournament gave us some freedom to roam Yerevan and the country, as well as giving us the chance to watch some truly amazing sports games. The dinner and dance after the closing ceremony was majestic and, like the entire duration of the tournament, had a remarkable atmosphere as we for one last time had the chance to dance and sing with our new extended family. All in all the Games were an unforgettable experience and an experience I impatiently wait to relive in four years time.
— Vahe Boghosian